Oanda has made big moves in the last two decades. Currently, Oanda is a rooted player in the US and global markets. Headquartered in San Francisco, California, Oanda is a name to look for in forex, index & commodity CFDs, and bonds. OANDA operates across eight global financial centres, serving 196 countries through entities licensed in six major regulatory jurisdictions in the USA, UK, Singapore, Australia, Japan, and Canada. Founded in 1996, this broker was one of the first available forex brokers in the market, and now are sitting pretty as one of the biggest names in the business.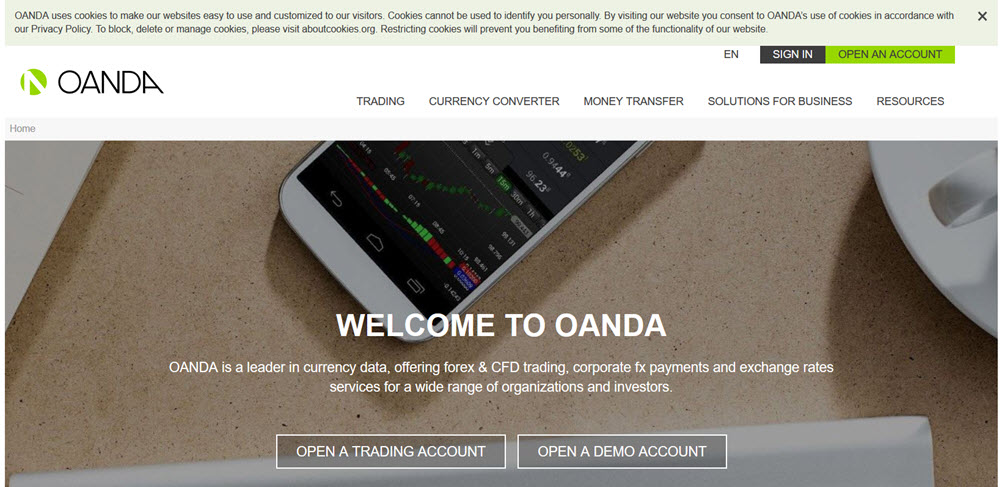 Regulations and Security
OANDA is regulated in six countries, and thus provides a great sense of security and trust across the globe. OANDA is regulated by Commodity Futures Trading Commission (CFTC) in the USA, Financial Conduct Authority (FCA) in the UK, Australian Securities and Investment Commission (ASIC), Monetary Authority of Singapore (MAS), Financial Services Agency (FSA) in Japan, and Investment Industry Regulatory Organization (IIROC) in Canada.
OANDA took a stance against cybercrimes by putting a large emphasis on the traders' security. Using the latest and best high-tech SSL encryption software available.
Banking
OANDA has three options available to all traders and several others available by region. The three basic options are Credit and Debit Cards, Bank Wire Transfers, and PayPal. Each region (USA, Europe, Asia) all presents other options for traders to send and receive their money. For example, in China, you can use Bpay or China Union, while in Europe you can choose from Internet Banking and BACS.
Each option comes with different average processing times and possible costs. The fastest deposit options tend to be Credit and Debit Cards and PayPal. When it comes to withdrawals these two options tend to be the cheapest and most rapid of choices. Important to mention that OANDA gives traders one free monthly card withdrawal.
Accounts
Oanda comes with two account types for standard traders, a demo account available for you to gain your footing, and a standard account used by all users. The demo account is a great starting point for newcomers of trading and Oanda. Contrary to the industry norm. Oanda's demo account lets traders continue using its virtual cash-based system until you feel full and ready. Gaining familiarity with the tools, indicators, and charts available at Oanda, and recognizing the trends of the market is a crucial part of all trading strategies.
Standard Account stands out from their competitors as it requires a $0 minimum deposit. With this account, you can upgrade from the demo account and start trading in real currency. With over 70 currency pairings and competitive spreads, the standard account creates a platform made for the biggest to smallest trades and traders. This is beneficial for most, except for the institutional and high-volume traders.
Trading Platforms
Oanda has an offering of two trading platforms for their subscribers to choose from, their very own proprietary platform FxTrade and the always reliable and oh so popular MetaTrader4 (MT4).
FxTrade is one of the main draws of Oanda. This platform is made by and for Oanda, and its traders, with a variety of tools and analytics available for traders to use and make the best decisions with their money. Allowing users to trade directly from the charts provided by MultiCharts. Oanda gives you news feeds, historical and current economic analysis, and watch lists to use to build your investment strategy. FxTrade focuses on functionality over appearances. Even though the analysis and news open as separate web pages, the speed of transactions keeps up with the industry norms. One of the main draws of FxTrade is the API Libraries provided for traders wanting to carry out automated trades. The first fully automated trading platform FxTrade API Libraries allow you to make exponentially more trades than you ever could manually.