The online broker Plus500 has been around since 2008 and is thus one of the pioneers in the field. Today, they are chiefly known for their Contracts for Difference (CFD), which you can use to gain exposure to a wide range of other assets, including commodities, stocks (company shares), options, forex, cryptocurrency, and exchange-traded funds (ETF).
The Plus500 site is available in 30+ different languages.
To start trading with real money at Plus500, you have to deposit a minimum of $100.
Trading with play-money is possible with a Plus500 Demo Account. It is a great way to test out Plus500 and see if you like their offerings before you make a real-money deposit. Opening and using a Plus500 Demo Account is free of charge.
Plus500 is listed as a top UK broker by Investing.co.uk.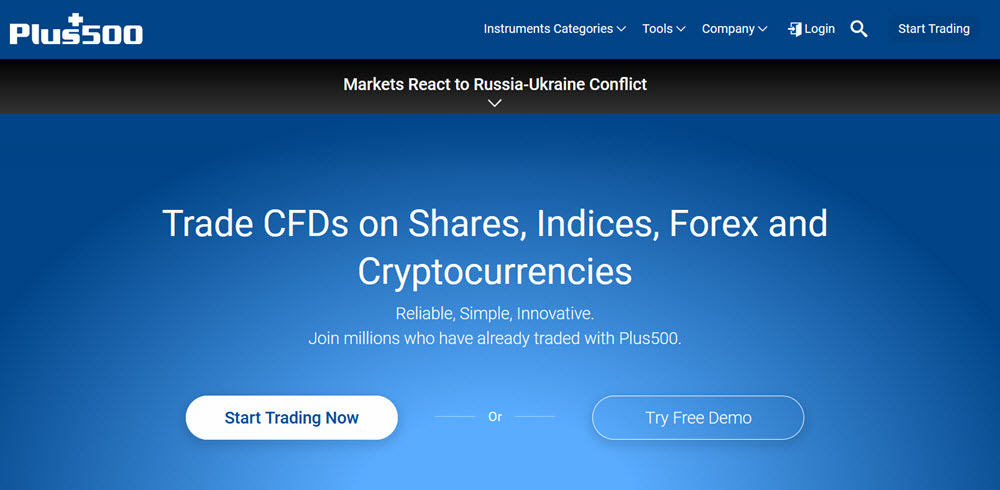 Can I use Plus500 for cryptocurrency trading?
At Plus500, Contracts for Difference (CFD:s) can be used to gain exposure to cryptocurrencies, such as Bitcoin, Litecoin and Ripple.
Note: In some jurisdictions, this is not permitted (due to legal restrictions) or not permitted for non-professional traders.
Trading accounts
Plus500 is keeping it simple and only offering one type of real-money trading account: The Plus500 Standard Account. As a trader, you don´t need to compare different types of account to find the best for your trading preferences, since all real-money trading at Plus500 is made through a Standard Account.
Even professional traders at Plus500 use the Standard Account, but with a special classification (as required by law in certain jurisdictions). If you are a professional trader in a jurisdiction where this distinction is important (e.g. the European Union) and you would like to be listed as a professional, contact the customer service at Plus500 for more information about the requirements.
Trading platform
As a Plus500 client, you will use the Plus500 Webtrader platform, which as been created specifically for Plus500. It is a available for download, but you can also use directly in your web browser.
It is easy to adjust the settings for the Plus500 Webtrader to suit your particular preferences and trading habits.
Mobile trading
Mobile trading apps are available for both iOS and Android.
The Plus500 trading app for iOS is available for download in the Apple App Store.
The Plus500 trading app for Android is available for download in the Google Play Store.
Both apps are easy to use and work well with both mobile phones and tablets. They are nibble to navigate even on fairly small screens.
When can I trade?
The Plus500 trading platform is open and active around the clock, but exactly what you can trade with will differ depending on the time of day. Trading with stocks as the underlying asset is typically only possible when an exchange they are listed on is open, and so on.
Leverage at Plus500
Plus500 offers leveraged trading, but in some jurisdictions, their offerings are limited due to legal requirements. Such requirements typically pertain to non-professional traders and having your trading account re-classified as a professional trading account can increase your available leverage in such jurisdictions. Contact customer support at Plus500 to find out more.
Plus500 offers a maximum of 1:300 leverage, but that doesn´t mean that 1:300 is available for all kinds of trades. For some underlying assets, the maximum leverage will be considerably lower.
Customer service
There is not phone support available, but you can use the live chat support to get help in real-time.
E-mail support is also available.
The Plus500 customer support is staffed 24/7.
Deposits and withdrawals
Examples of transaction methods that can be used with Plus500 are VISA, MasterCard, Skrill, PayPal, and bank transfer.
The smallest possible deposit is 100 USD.
A withdrawal request will typically be processed within three bank days. Plus500 does not charge with withdrawals (but the transfer method you are using may). How small a withdrawal you can make depends on which transfer method you are using.
Corporate information
The parent company Plus500 Ltd owns several subsidiaries for the various markets around the world, chiefly in Europe, Australia, New Zealand, and South Africa. Plus500 Ltd is based in the United Kingdom and traded on the LSE Main Market. It is regulated by the UK Financial Conduct Authority (FRN 509 909).
Within the European Union, Plus500 acts through the subsidiary Plus500CY Ltd, which is based in the EU member country Cyprus and regulated by the Cyprus Securities and Exchange Commission (License No. 250/14). Plus500CY Ltd must adhere to both Cypriotic law and the rules of the European Union.
Plus500AU Pty Ltd is a subsidiary based in Australia and regulated by the Australian Securities and Investments Commission. It holds a Derivatives Issuer License from New Zealand, and is an Authorized Financial Services Provider in South Africa.